DEATHSCRIBE SUBMISSIONS
ARE NOW BEING ACCEPTED
COMING SOON: H.P. LOVECRAFT'S
THE SHADOW OVER INNSMOUTH
Adapted by Scott T. Barsotti
Directed by Shade Murray
What They Are Saying About WildClaw Theatre:
"Nobody else in town does what WildClaw does."
Alex Huntsberger - Centerstage

"... the only Chicago theater company to specialize in this particular genre"
Chris Jones - Chicago Tribune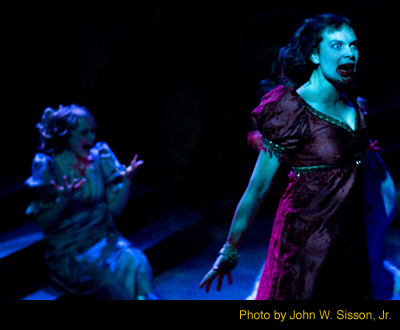 Brittany Burch and Michaela Petro in Carmilla.
WHAT IS HORROR THEATRE?

Hear What A First Time WildClaw Patron
Thought After Seeing KILL ME (Read the whole article)

"When the play ended (70 minutes with no intermission), I turned to Suzanne and she enthusiastically said, "That was GOOD!" I wasn't surprised. The acting in this play was superb and I could see all of these players having a bright future. Their performances were so perfectly synchronized, the audience literally becomes lost in it; the veil between stage and viewer slowly dissipating. I had assumed this was only possible in a film (where lights and production features are hidden from a camera's view) and was ill prepared at how wrong I would be.
In fact, in many ways, the "Live" aspect made it even more effective. The dialogue was gripping – providing deep, psychological insights that most all of us feel but few can articulate. Many of us admit a fear of death, but how many of us can truly grasp what immortality would actually mean? These are the kind of questions the audience is forced to confront when watching KILL ME."

Dave Fuentes - Terror From Beyond the Daves blog
Sasha Gioppo and Jude Roche in KILL ME.
Follow us on Twitter!
Follow us on Facebook!
2008-2012 WildClaw Theatre

All images and content belong to WildClaw Theatre unless otherwise noted.
If you want to use something from the site, please ask us or you may find the Hounds of Hell at your door.
And maybe some slimy tentacle demons of the Old Ones.
WildClaw Theatre is dedicated to bringing horror works to the live stage.
We believe the fantastique holds intimate power in the realm of live theater and we aim to put it there.